We Put the
FUN

Back into Fundraising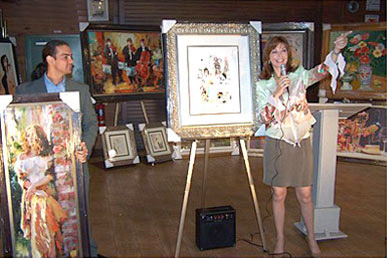 For over 20 years, Hamilton Fine Art and Auction has been a leader in the wholesale fine art and fundraising art auctions industry. We have helped thousands of schools, churches, synagogues, civic organizations, national foundations, clubs and other non-profit organizations raise millions of dollars by providing fun, entertaining and profitable fundraising art auction events.
Headquartered in South Florida, Hamilton Fine Art and Auction performs customized art fund raising auction events for charity and non-profit organizations across the country.
We "Put the FUN Back into Fundraising" by providing all of the tools you and your fundraising committee will need to ensure a successful fundraising event, including a licensed auctioneer, all auction items, marketing materials, lights, easels, tickets and a program book for the evening's event.
HFA fundraising auctions feature an extensive selection of fine art, sports memorabilia, and jewelry, in a wide range of prices, styles and media. Hamilton Fine Art and Auction provides complete fundraising consulting services.
At Hamilton Fine Art and Auction we own our art collection purchased directly from leading artists throughout the world to provide fine art originals and limited-edition graphics that exhibit the highest quality and technique. Since we purchase in volume, we have tremendous purchasing power. This allows us to offer artwork, collectibles, and jewelry at low opening bids at auction.
HFA represents many of the leading contemporary artists in the world, including Disney, Leroy Neiman, Patricia, Lauri Blank, Gary Benfield, Tripp Harrison, Shana, Murf, Tarkay, Ilyayev, Ken Keeley, and many more.
Our masters collection features the artwork of Dali, Chagall, Picasso, Renoir, Rembrandt, Miro, Icart, and Lautrec. We are also proud to feature one of a kind sports, music and movie collectible items. All artwork and sports memorabilia is presented with custom framing and certificates of authenticity.
"Your expertise and talent is evident and we can't thank you enough for doing an amazing job! It is clear you have a passion for what you do and you are spectacular at it! We look forward to working with you next year." Read More
Jacqueline Nicholson, Director of Development of Palm Beach Habilitation Center
"I highly recommend Hamilton Fine Art for events, as we have used them for many years and plan to do so for many more. They played a major role in helping us make our event the success is was." Read More
Jackie Perl, Special events coordinator Of Make-a-Wish
"I would gladly recommend Hamilton Fine Art to other organizations. As our auctioneer Janice completely captivated our guests with her knowledge, wit and charm. We netted almost $14,000 to support our programs." Read More
Dr. Elly du Pré, Executive Director of Lighthouse of Broward