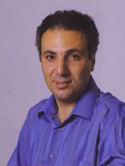 Slava Ilyayev was born in Baku, Azerbaijan (former U.S.S.R.). He learned at the Academy for plastic art in Baku and later, in 1995, upon immigrating to Israel, continued his studies at the Aviv Institute for Art in Tel Aviv.
Since 1998, Ilyayev has been teaching in various schools and academies in Israel while continuing his own artistic life.
In 1999, Ilyayev participated in two major shows in Tel Aviv and Jerusalem where, for the first time, his artworks were on display to the public.
Slava Ilyayev's works are unique in the structure of the color which is raised above the canvas. His compositions of light and shadow are affected by the transitions of the seasons of the year.
Slava uses palette-knife instead of regular brushes to put oil paint on canvas which creates a special and heavy texture.
His works have been shown in various group and one-man exhibitions throughout Israel, Europe and the USA.